It's almost that time of year again. If you are lucky and you are a Class Teacher, you will have less work than Specialist / Subject Teachers, some of whom have to write 400+ report comments… (I feel for you, I really do!)
If you are having a brain freeze or fart, yes, my son likes to call his 'weaker moments' brain farts, then be sure and check out my Report Bank Comment Resource Pack. It's ideal for KS2/KS3/Middle/High School.
I am in the process of creating another for lower levels but it will be more skills based.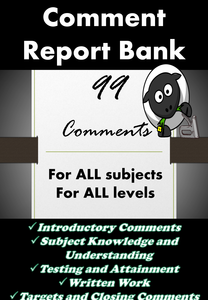 If you want to have a nosey, you can see a preview on either of my stores.
For US Resources go to either my TpT Store or my TES USA Store.
https://www.tes.com/us/teacher-lessons/report-comment-bank-11155856
https://www.teacherspayteachers.com/Product/Report-Comment-Bank-2140845
FOR UK – TES UK
https://www.tes.com/teaching-resource/report-comment-bank-11139743
-Polly xx